Banham Academy
Apprenticeships
We are a specialist technical training provider for the Level 3 Fire, Emergency and Security Systems Apprenticeship.
About Our Apprenticeships
An apprenticeship from Banham Academy helps you develop essential technical and vocational skills for the future. Our apprenticeship is ideal for anyone with an interest in security or engineering, who can work practically in a hands-on environment.
The learning outcomes are designed to enable you to become a fire, emergency and security systems technician, or specialise in one of these areas, and develop the skills to design, install, commission and maintain electronic security devices.
More Information on Apprenticeships
For Employers

Apprenticeship Overview

ENTRY REQUIREMENTS

WHAT TO EXPECT

Banham Academy Newsletter
For Employers
INFORMATION FOR EMPLOYERS
Banham Academy have been part of the Employer-Led working group developing the Level 3 Fire, Emergency and Security Systems Apprenticeship Standard. We currently deliver training to apprentices for a growing number of employers within the fire and security systems sector. We are the first organisation in our industry to have an End Point Assessment Centre for this apprenticeship.
Our trainers are industry specialists that have built up a reputation for high quality training with excellent results. Banham Academy apprentices have won the IFSEC Engineers of Tomorrow Competition.
The Academy is based in Earlsfield close to Central London with excellent transport links. The training centre is a modern purpose-built building featuring workshops, classrooms and e-learning facilities.
To discuss how we can make apprenticeships work for your business, contact [email protected].
Apprenticeship Overview
SECURITY, FIRE AND EMERGENCY SYSTEMS APPRENTICESHIP
Role Overview: Designing, installing and maintaining electronic systems to protect businesses, homes and properties against fires, break-ins and other emergencies.
Level: 3 (Equivalent to A Levels at grades A-E)
Typical Length: 36 months
The course will:
Teach all of the necessary skills for gaining employment in all areas of the security systems industry, from engineering to management

Help develop problem solving skills

Help improve customer service skills, as you will need to be able to explain and demonstrate how emergency systems work

Provide you with a practical alternative to a university qualification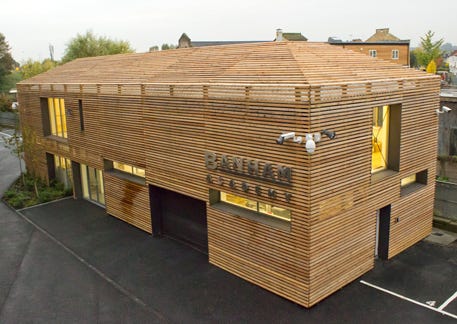 ENTRY REQUIREMENTS
WHAT ARE THE ENTRY REQUIREMENTS?

While the overall entry requirements will be set by the employer, each of Banham Academy's security systems apprentices must:
Hold at least a provisional driving license

Have successfully completed their driving theory test before the program begins;

Pass a DBS check

Before completing the final assessment, apprentices must have achieved level 2 English and Maths, or the equivalent GCSE at grade A*-C.
WHAT TO EXPECT
WHAT CAN I EXPECT ON THE APPRENTICESHIP?
You'll be given the opportunity to demonstrate your skills in a workplace environment, as well as some classroom-based work which will take place at Banham Academy, close to Central London. Electronic systems are available within our workshops for you to practice and hone your technical skills.
You'll learn about:
Installing, testing and maintaining different systems – For a wide range of fire, emergency and security systems

System technologies – This includes retrieving, storing, receiving, transmitting and manipulating electronic data using a range of devices

Electrical and electronic principles – This includes codes of practice, design criteria, and commissioning

Communication – To clearly and concisely communicate any issues with security systems to their owners

Specialist fire, security, and emergency lighting — Essential knowledge for any security technician

Health and safety practices — All the relevant legislation and regulations surrounding the field, including environmental compliance

Security systems training – Apprentices will be working towards gaining the skills to become a security systems installer. These include how to conduct site surveys in order to provide the most efficient coverage possible, the installation and testing of security systems including access control panels and CCTV, and how to service and repair these systems.
Banham Academy Newsletter
BANHAM ACADEMY LEADS THE WAY BY OFFICIALLY LAUNCHING THE FIRE AND SECURITY SECTOR'S FIRST END POINT ASSESSMENT CENTRE
Working with the National Electrotechnical Training Organisation (NET), the End Point Assessment Awarding Organisation for the Level 3 Fire, Emergency and Security Systems Apprenticeship Standard, Banham Academy has opened the first End Point Assessment Centre.
Having been involved from the very start in the creation of the apprenticeship standard, it was a natural progression for the Academy to put the final piece of the jigsaw in place and open the first testing centre.
There is now an apprenticeship standard that the industry can be proud of and the Head of Banham Academy, Kevin Faulkner states:
"It is great to have seen this apprenticeship standard grow and so many employers across the sector become involved by sending their apprentices to the academy. Finally, we are now able to see the apprentices complete their learning journey and go back into the workplace having had their knowledge, skills and behaviours thoroughly tested through end point assessment."
Practical work
As we know, the apprentices enjoy their practical work when at the academy. Declan Conroy has created an interactive hub to assist understanding of electrical circuits. Also, the pod in the main workshop is nearly complete and will be used by apprentices to hone their installation skills.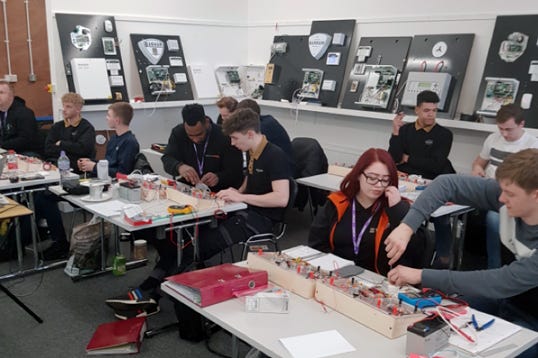 END POINT ASSESSORS
The opening of the end point assessment centre has created an opportunity for those that are looking to work part-time, using their skills and knowledge to assess the technicians of the future. Excellent rates of pay on a flexible basis to suit the right person.


WORLDSKILLS UK
Our most advanced apprentices will be competing in the first Regional Heats for the WorldSkills UK competition in May. The two winners will be given the chance to compete and demonstrate their skills at the NEC Birmingham in November. During 2018, 70,000 people visited the event over the 3 days.


Engineers of Tomorrow
The apprentices that have completed their first end of year assessment at the academy will be invited to take part in the Regional Heats for the Engineers of Tomorrow competition taking place at IFSEC in June 2019. The heats will be held when the apprentices are at the academy in April and the two winners will form a pairing and go forward to the competition finals held at the ExCel Arena.
SAFEGUARDING
When apprentices are next at the Academy, we will provide information on the recent rise in knife-crime and the 'London Needs You Alive' campaign. Also, it has been identified that there is a recent surge on political radicalisation occurring while people are in education and this will be discussed.
CONGRATULATIONS
to Szymon Freygant, from Cohort 1, who was recently nominated for the 'Rising Star Award' at The Abel Apprentice Awards 2019.