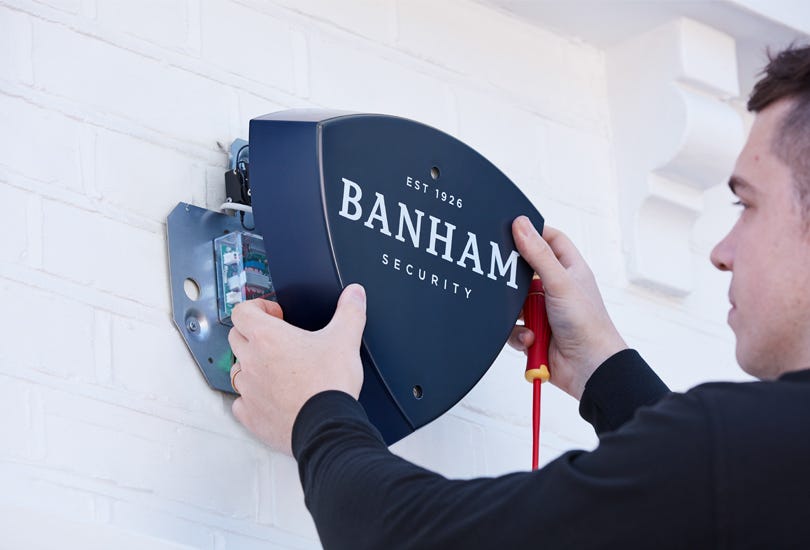 Insurance Approved Alarm Systems
Save Money & Stay Safe
While there are numerous benefits to having well-installed domestic burglar alarms, many security systems, including those provided by Banham, can also provide significant discounts to your insurance policy.
Alarm systems are a proven deterrent to intruders, from the protection they actively provide to your home to their visible presence inside and outside of your property. While there are numerous benefits to having well-installed domestic burglar alarms, many security systems, including those provided by Banham, can also provide significant discounts to your insurance policy.
Home alarms and insurance discounts
During 2017, home insurance premiums rose by 8.5%, with the average rise in the cost of home insurance in London hitting £168. This comes as a result of the Government's decision to raise the insurance premium tax for the fourth time this decade, which has now reached double the rate it was in 2011. The current rate of inflation was also at its highest point since 2012, further impacting the rising cost of premiums.
By investing in a high quality, insurance approved burglar alarm, you can make substantial savings on your home insurance policy in the face of these rising costs, as well as significantly improving the security of your home. Provided you remember to activate your system before leaving the house, you should be entitled to your maximum claim, particularly if you invest in a Grade 2 EN50131 burglar alarm.
What is a Grade 2 EN50131 burglar alarm?
The EN50131 burglar alarm standards, which were introduced in 2005, are the European standard for home security systems, and the minimum standard for all home insurance approved alarm systems. These require all alarm system installations to be prefaced by a full site survey and risk assessment, with the burglar alarms themselves meeting certain design specifications.
All of Banham's security systems comply with these standards. The grading system itself relates not to the alarm system, but the level of effort it would take an intruder to gain entry to a property in the face of it.
A Grade 2 EN50131 burglar alarm:
has the highest grading possible for any wireless alarm system
applies to almost all residential properties

is the minimum level of security approved by insurers

assumes that the burglar would be using tools to break and enter a property, with some knowledge of the workings of the alarm system
While there has been a surge in popularity for DIY wireless burglar alarm installation, no DIY alarm system meets Grade 2 EN50131 standards. This is due to the lack of independent risk assessment and the potential for errors in installation, such as poorly-placed sensors.
Not only will self-installed alarms provide reduced security and offer no benefits to your insurance premium, but any outside help such as repairs or maintenance will make an ostensibly cheap security system even more costly than a professionally-installed one.
How to find an insurance approved alarm system
Security companies offer a range of products, but not all of them are insurance-approved by NACOSS (the National Approval Council for Security Systems), the UK's official security certification body. Alarm systems aren't always up to Grade 2 EN50131 level, though a reputable security company (one which has been NSI silver or gold approved) will sell these as standard, so ensure that you do your research once you have been given a recommendation by a supplier.
Don't be fooled by anyone who says that, regardless of whether or not they are insurance approved, any alarm system will act as a deterrent to any potential burglars. Likewise, having visible security measures outside your home will not be effective enough on their own, especially if they are fake alarm systems.
The presence of an alarm bell box, for example, emphasises that the property has not been left vacant, and should discourage any unwanted visitors from attempting a break-in. The efficacy of alarm boxes as visual deterrents goes some way to explaining the popularity of "dummy boxes", which can be stuck to a home's exterior wall with no actual alarm system to back it up.
Needless to say, these are not considered a security measure worthy of a home insurance discount.
By comparison, if a burglar remains undeterred by an alarm box on your home, a Grade 2 EN50131 alarm system will not only be robust enough to sound at the first sign of intrusion, but can lead directly to intervention from security professionals.
If you invest in a Banham monitored alarm system, not only will your home will be supervised around the clock from our Alarm Receiving Centre, but you will be eligible for a discount of up to 20% on your insurance premium.
In the event that your alarm is activated, the staff at our Alarm Receiving Centre will contact your landline for password identification. If there is no response from the initial phone call, our team will either contact the police or a secondary backup contact. We also provide free site surveys, which allow us to determine the best type of burglar alarm for your home.
Professionally installed and monitored alarm systems are considered extremely favourably by insurers, so investing in one is a highly recommended method to save on your premium.