For safety, auditing and security
Entry & Access Control Systems
Manage and monitor the movement of people into and through your building with Banham's door access control systems and audio or video entry systems. From entrance security cameras to smartcard access and fingerprint door entry, we can help you create the perfect system for your property.
Entry & Access Control Systems
Complete security confidence

Entry Systems

Access Control Systems
Complete security confidence
Because your security is our first priority, we offer a range of entry and access control systems that can be customised to best protect your property.
Excellent additional security for any building – especially those with long driveways or that are part of multi-residential properties – our door entry systems offer the best in audio and video quality. Customisable features and design make Banham entry systems unique, and enable us to install a bespoke security solution.
Ideal for controlling the movement of people into and through your premises, our access control systems employ state-of-the-art technology, like biometric and fingerprint entry scanners and locks, or smartcards and proximity card readers. Talk to our friendly, professional team about your requirements, and design the right system for you.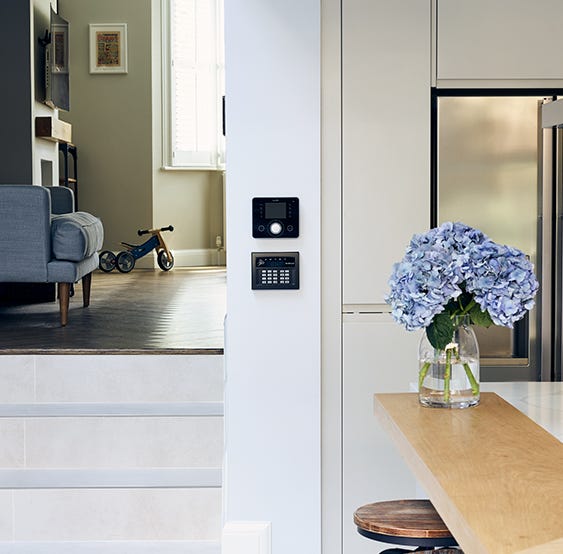 Entry Systems
A high-quality audio or video entry system enables you to identify callers and control who can access your property. Using our years of security experience and knowledge of cutting-edge technology, we've created systems that are easy to use, adaptable to your individual needs and offer the highest possible home protection.
Banham entry systems carry our trademark quality, reliability, intuitive design and attention to detail. Customise your property security with a range of monitors, intercoms, handsets and entry panels, all available in various stylish finishes. Whether you choose an audio or video door entry system, you can expect the following benefits:
Quick and simple installation
System flexibility of additional handsets and monitors
Lock and talk buttons to activate door release
Two-way audio connection
High-quality audio and video technology
Access Control Systems
Electronic access control systems are ideal for keeping your staff and visitors safe. They perform two main functions: monitoring the location of people throughout your building, and ensuring that certain onsite areas can only be accessed by authorised individuals, within specified time frames.
Our integrated door access control systems have the benefit of enabling you to control your entire building's security through just one system, while providing a fully-recorded audit trail. They are customisable to meet your security needs and match your property's style, and even the most basic system includes, among other features, the following high-security measures:
Full standby battery backup in the event of power failure

Full time and date recorded activity log

Request to exit facility

Emergency break glass

Proximity tags, which can also operate an integrated intruder alarm system
Request a survey to discover how we can help with your unique requirements. Call us for advice on 020 7622 5151 or fill out our online request form and we'll be in touch shortly.