Patents
Protecting Our Latest Inventions
The patents we hold for our locks and keys are a significant part of our history, just like the invention of the automatic door bolt. They represent our long-standing legacy and commitment to innovation in the security industry.
A PATENTED SYSTEM
THE BANHAM MARK III – OUR LATEST INVENTION AND PATENT FOR YOUR COMPLETE PROTECTION
Patented key systems offer the ultimate in key control and security.

Our latest key, the Banham Mark III, is covered under patent and therefore is exclusive to Banham and our customers. This means it is illegal for anyone else to make a physical copy of these keys. If any unauthorised copies of this key are made, the copier would be infringing on our legal patent and would be subject to legal action.

Our patented Mark III keys are protected further by our professionally managed key registration system. As we will only copy keys for individuals registered on our unique system, you can have peace of mind that you are in full control of your keys.

The Banham Mark III offers long term key protection as it is covered under patent until 2032.
OUR HISTORY OF INNOVATION
Banham registered the first patents on our locks in the 1940s and have been at the cutting-edge of lock inventions ever since. That is why the word 'patent' remains in our registered company name 'Banham Patent Locks Limited'.
Our continued investment in protecting our latest inventions through legal patents, together with our unique key registration system, ensures our customers receive the very highest levels of security and key control.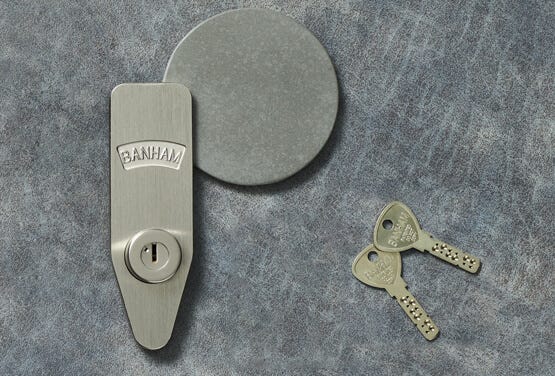 Patent
noun A patent is an official right to be the only person or company allowed to make or sell a new product for a certain period of time.
Source: Collins English Dictionary